Short on yard space? New to gardening and want to start small? Want a simple and manageable way to have fresh herbs or beautiful flowers right outside your door? Are you a city dweller or only have access to a rooftop or deck? A container garden might be just the answer.
What kinds of things can be grown in containers? You'd be surprised at how long the list is. While the main challenge to container gardening is the restricted space allowed the roots, with some planning and know-how you can grow anything from flowers to succulents to vegetables in your Pacific Northwest container garden.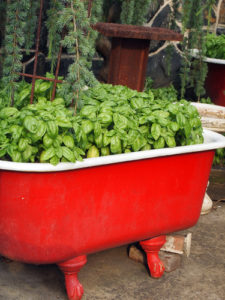 What kind of container should you use? Honestly, the sky's the limit. You can purchase elegant urns or pots, or re-purpose an old wheelbarrow, wine barrel or even a bathtub. Small containers include an old watering jug…a chipped bowl…a fishbowl that's no longer filled with fish. A basket lined with moss can hang on the front porch. Make sure you have some sort of drainage, such as a few holes drilled in the bottom (be careful when drilling through most containers and check with your local hardware store about the types of bits to use—and always wear protective eyewear).
What to think about when planning a container flower garden:
When planting for color and beauty, first, decide if your container is going to be in the shade, sun or partial shade. This will determine the kinds of plants to choose.
Next, choose your plants. Visit your local nursery and select a "thriller" or focal point plant. This can be a shrub or showy perennial, such as Yarrow, Hyssop or Gallardia. Select some lower growing plants as filler plants. Try a compact evergreen Euphorbia or grasses like Acorus. Lastly, purchase some plants that spill over the edge, like trailing lobelia or Calibrachoa.
Select a quality soil for your container planting. A loose and porous mixture makes your container easier to move, and allows for water, fertilizer and air to permeate the roots. The perfect growing mix is composed of peat moss, vermiculite or perlite, sand, and shredded bark or compost.
What to think about when planting an edible container garden:
Want to have a selection of fresh herbs at hand? Plant a container of a variety of herbs on the front porch. Mint, thyme, oregano, rosemary, and dill are all good choices.
Start simple. Hold off on the tomatoes, basil and peppers until you have a few successes under your belt. Greens like lettuce, kale and chard are some of the easiest to grow in small raised beds. Peas and beans are fairly easy, too. And, the ever hardy zucchini is a no brainer. One plant can feed the family.
Last but not least, don't forget to water your containers! By following these tips, you can have a breathtaking flower container to delight admirers or oodles of fresh veggies and herbs to share with family and friends.
Need help clearing the yard for a full size garden? We can help! Give us a call at (360) 265-5231