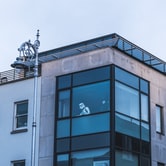 RECLAIM YOUR LAWN
BATTLING LAWN MOSS
We hate to say this, but if you're currently battling lawn moss, the situation is going to get worse unless you take steps to rectify this situation. All the grasses on your lawn will soon be forced out, and you'll have little or none left. Fortunately, we also have some good news – you can reclaim your lawn from the moss "mafia," prevent re-infestation, and enjoy thick, green grass again with the expert lawn moss control tips in this post.
First, Why Is Lawn Moss Control Difficult?
Well, the simple answer is that mosses aren't like other weeds. Thus, regular weed killers don't have any effect on them. They only require moisture or water to thrive and can grow on little nutrients and light. So, they grow really fast and spread quickly to outcompete your lawn grass for nutrients.
How To Control Lawn Moss
Your lawn becomes prone to moss infestation when soil conditions don't enable grass to thrive. Conditions such as poor drainage, acidic soil, and heavy foot traffic are significant culprits that support moss infestation. Here are some lawn moss control tips to help get rid of moss and prevent re-infestation.
1. Improve Lawn Condition
You can prevent lawn moss infestation by correcting soil conditions that support their growth. Test your lawn soil acidity and lime if necessary, and improve areas with poor drainage. Also, prune trees with thick foliage to allow more light to reach your lawn grass, and aerate compacted soil.
2. Scarify Your Lawn
Scarifying your lawn involves using a dethatcher to rake over the affected areas to cut through the soil and remove moss and dead grass. The process also helps loosen and aerates the soil, thereby improving the overall health of the lawn.
3. Use Iron-Based Lawn Products
As mentioned earlier, regular weed control products can't kill lawn moss. You need iron-based lawn moss products, such as those containing ferrous sulfate, to virtually eliminate lawn moss. These products cause mosses to dry up and die by sucking the moisture in them.
Depending on the severity of the moss infestation, you may need to combine all three tips above. If the infestation is mild, you only need to scarify your lawn and carry out regular maintenance. Otherwise, you should use an effective moss control product and then scarify to remove the dead mosses and improve lawn conditions. If you don't want to go through the hassle, you can contact us at Levy's Lawn & Landscape for professional help.
"You can reclaim your lawn from the moss "mafia," prevent re-infestation, and enjoy thick, green grass again with the expert lawn moss control tips in this post."