Can Discarded Furniture Be Used To Plant Flowers In The Garden?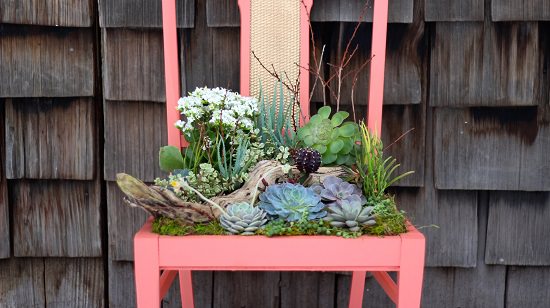 When you have furniture to discard, you probably think of your local thrift shop. Or, you come up with reasons to keep that old sofa and find ways to can still use it. If the question, "can discarded furniture be used to plant flowers?" ever crossed your mind, then the answer is absolutely! Yes, you can use discarded furniture to plant flowers in your garden. Continue reading to learn how.
How To Use Furniture To Plant Flowers
No matter the type of furniture you want to discard, you can repurpose it into a planter for flowers in your garden. Here's how some discarded furniture can be used to plant flowers in the garden.
Desks and Dressers
Desks and dressers have drawers that can serve as containers for planting flowers. First, line the inside of the drawers with plastic garbage bags, and drill a couple of holes through the bags and drawer bottoms. This will enable sufficient drainage of water and prevent the wood from decaying quickly. Next, fill the drawers with potting soil and plant your flowers. Then, open some drawers a little and others entirely to create a layered effect.
Broken Chairs
Yes, even a broken chair can be used to plant flowers in your garden. Just cut out the seat and hang a plastic container in it to plant your flowers. You can even grow climbing plants that will twine around the back of the chair.
Bed Frame
You can literally put the bed in "flowerbed" by planting flowers in an old bed. After taking out the mattress, cut out some sections of the bottom wood of the bed frame. Then, fit in several planters or containers to plant your flowers.
The bottom line is that discarded furniture can be repurposed as planters. So, before you discard that old piece of furniture, first think about how you can use them to plant flowers. If you need more creative ideas to make your garden look even more fabulous, reach out to us at Levy's Lawn & Landscaping today!